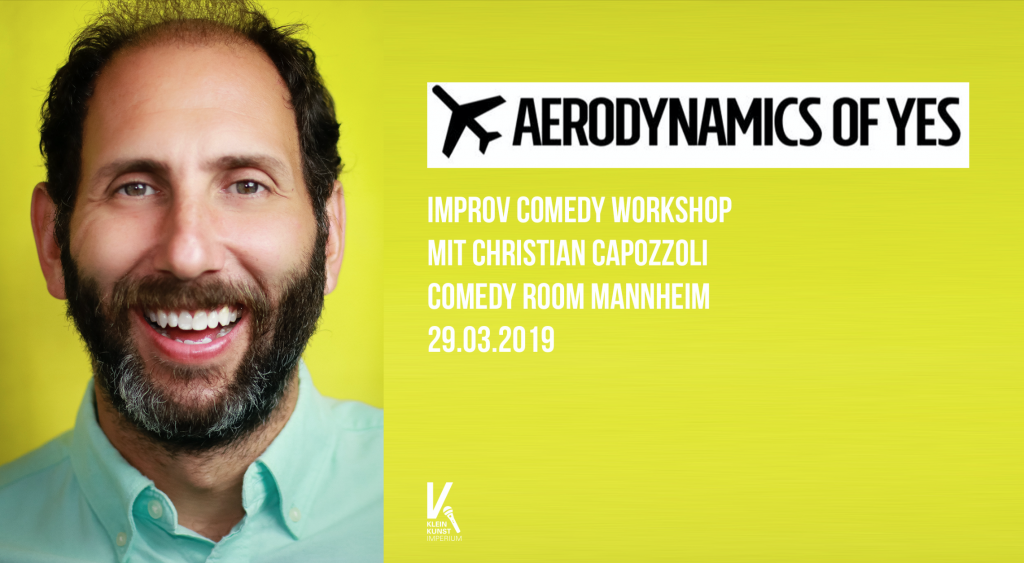 Workshopsprache: English
Level: Fortgeschrittene Improspieler
Workshop mit Christian Capozzoli:
Aerodyamics of Yes!
Get familiar with Christian Capozzoli's Aerodynamics of Yes techniques of improv. It sets out to create a bedrock foundation for you as a self reliant, team-playing, fun-chasing improviser. This is for new improvisers and those that want a refreshing new slant on the way they play. Create tension, Take action, and explore characterization through wants, and spine and choice. Learn to advance and expand your ideas and weave them into rewarding scenes and narratives, with pronounced games.
Celebrate team play, while boosting your confidence as a solo performer. Agreement and attack are essential to this method. Endorse and cosign each other's moves with immediate attack, be fearless and reactionary. Get on your toes, out of your head!
Christian Capozzoli
Christian Capozzoli is an American actor, author and improviser whose improv methods are taught the world over. He has a B.F.A. in Writing, Literature and Publishing from Emerson College and a Masters in Literature and Education from Harvard University.
​
Christian Capozzoli has had the fortune to work with top comedic voices in TV and Film, including Stephen Colbert, Lena Dunham, Robert Smigel and Adam Sandler. Capozzoli directed the Amazon special "Something from Nothing" and has worked along side legendary comedic instructors Mick Napier, Charna Halpern and Armando Diaz.
​
Christian Capozzoli has been honored and recognized as one of the top improv minds and instructors in the world. His one man show Nutso Facto, toured North America and Europe, receiving rave reviews from both the New York Times and Post.​
His Aerodynamics of Yes: The Improviser's Manual provides readers with the essential tools to unlock imagination and celebrate each other.
Infos und Anmeldung: hier